'Fitness RPG' must be kept running in the background to track steps properly.
Checklist:
[1/3] Make sure Fitness RPG is tracking steps in when running in the background
Push the game to the background by pressing the home button
Now pull down your notification bar and you should see a 'Fitness RPG' pedometer
The step reading should go up when you shaking your phone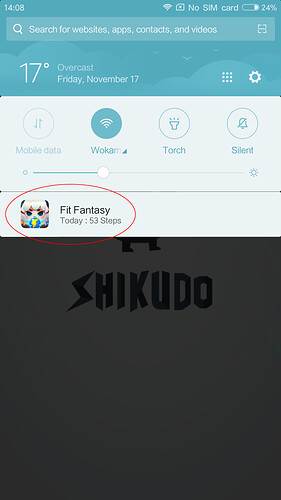 [2/3] Make sure Fitness RPG is not removed by your phone system
Some Android systems might automatically remove background apps to save battery and memory. You can prevent this by whitelisting 'Fitness RPG'. For example, here is a guide for HTC phones.
[3/3] Clear app cache and data, then reinstall
If you are still having troubles with tracking steps, please try to clear all the Fitness RPG app cache and data re-downloaded the game.
---
Consider using Google Fit if you can't find the option to whiltelist 'Fitness RPG'.
---
If you haven't connected your phone, please check this post.