Hey, I just wondering if you can solve this. Yesterday I logged in to my account, and I faced 'new enemy' in my arena league though it was the third arena day.
At first, I didn't think anything was wrong until I met one opponent: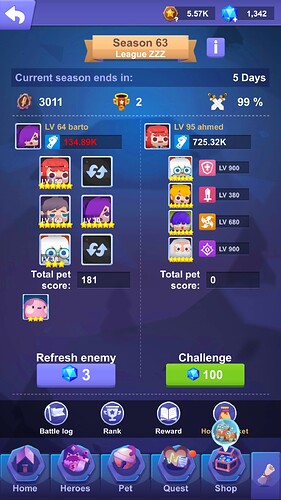 I started feeling suspicious because his level was unconditional. So, I refreshed the opponent one or two times, until I found the same case.
I was curious about what was happening then I found that the arena league was 'ZZZ' when I was supposed to be in League F.
Then I opened the rank tab, I found my league was in League I.
When I clicked the League F, my previous opponents (for the first 2 days in this season) were still there. But when I clicked back on League I, I couldn't find my name. Also there's no Guard Enemy on this league.
Last, what made me write this story here was, the error on guild tab and arena reward tab.
So, I just wondering if you can fix it because I couldn't accept it if I go through this season without any reward. So please, help me! Thankyou!
I tried to upload as much images as possible to support my story but because I'm new user on this forum, I couldn't upload more than one.
#p. s: I subscribed for superpass but sometimes my subcription wasn't detected when I changed my account server. Help me with that too!!
#p. s. s: My account name is barto on the first server.