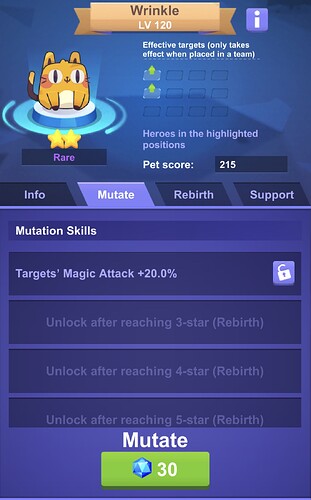 My thought process:
Mutate! Yuck.
Mutate! Yuck.
Mutate! Yuck.
Mutate! Yuck.
Mutate! Yuck.
Mutate! Yuck.
Mutate! Yuck.
Mutate! Holy *$&#! Yes! Yes! Yes!
What will I do next? See that little padlock icon by the mutation? I'm going to click on that. I will never want to mutate that one again.
Was it worth it to mutate? For me, it was. But, it really depends on how deep your crystals pocket is.
If I had waited until there were two things to mutate, I could have mutated both at the same time for the same 30 crystals. Would have been cheaper. Could have stopped when either one had something I liked, then locked the one I liked in. Or better yet, could have gotten really lucky and both could have been something I liked at the same time.
The cost to mutate depends on how many mutations you've locked in. The more mutations locked in, the more it costs to mutate the unlocked ones. So, once I click the padlock, the price of future mutations goes up to 50 crystals.
Bottom line: You'll want to mutate, especially the rares. You'll also want to use that padlock. And, it is worth it. So do it!