The pictures don't load could you type it instead
Hi Misspixel
Already fix the problem, pls refresh the page
Is there anyway to remove the alert "No activity since last sync. Click here for instructions!"? In navigating around I regularly hit the sync button by accident, not realizing I hit it I wind up taping in the greyed box and am thrown to safari. I know how to sync and don't ever need to tap for instructions and would LOVE to be able to turn this help off.
I am following these instructions, and had no issues previously, but in the last 24 hours I am having trouble where it tells me I have no activity sinc my last sync, even if I do. How can I fix this?
Thanks for your feedback,we will consider to improve this function in the coming updates.
Hi, you can try press the sync option - play with phone and then reauthorize fitbit to see if it works.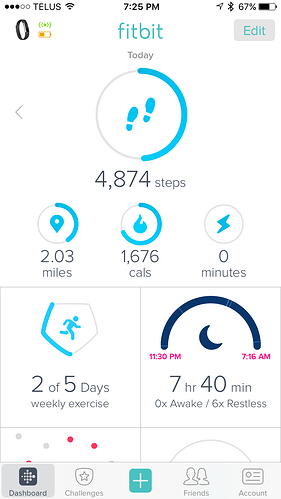 I'm new and I've followed these steps and it keeps telling me that I need to sync my Fitbit first. I have, numerous times. Removed my Fitbit and readded. I also deleted the app and reinstalled it. Any other troubleshooting for this?
I can't sync my fit bit to my wokomon it keeps saying no activity what can I do
Try pulling down refresh at this page and make sure the data has uploaded to the Fitbit server
Try pulling down refresh at Fitbit app and make sure the data has uploaded to the Fitbit server and then sync Fitbit in Wokamon
How do I sync with a different Fitbit account? I accidentally synced to the account I don't use but now it remembers me and I can't sync with a different one. I've tried deleting and reinstalling but it remembers what account I originally connected to
Hi,
You can deactivated Wokamon in this page and then login back in the wokamon.
i have tried everything and my fitbit will sync but the wokemon will not let me sync to upgrade my characters.
Hi Jake
Could you give us some screenshots so we can spot the problem
Hi @Jake_Starr,
Sorry for the late reply.
Did this problem still exist?
Also, could you try pull down refresh in the Fitbit app to make sure all the data have updated to the cloud server and then go back to Wokamon to see if it will sync successfully,
The sync sucks, even if I make sure the Fitbit app has just synced, the wokamon app still makes me authorise the whole app again, pretty disappointing,mostly annoying.
I can't see any of the pictures. I've tried refreshing the page.